How to Sleep With a Pregnancy Pillow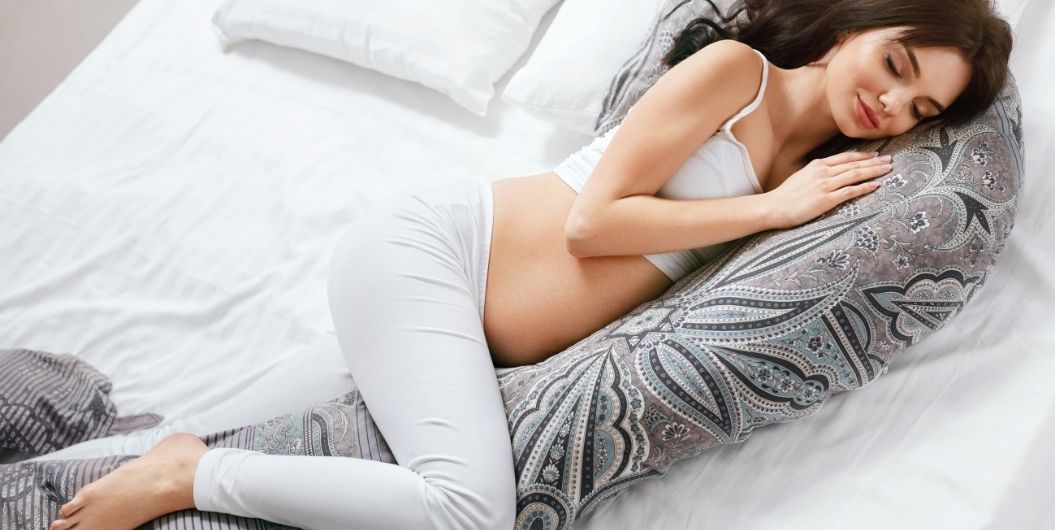 A pregnancy pillow has a unique shape that's designed to cradle the body, providing additional comfort and support. While these pillows are specifically intended to help reduce the common aches and pains that pregnant women experience, they can be useful for anyone who has pain in their hips, legs, or lower back.
A good pregnancy pillow can dramatically improve your sleep. Read on to learn how to choose the best pregnancy pillow for your needs and how to use it effectively when you sleep.
What Is a Pregnancy Pillow?
A pregnancy pillow is designed to provide extra support to reduce the sleep-related aches and pains that many women experience during pregnancy. Most pregnancy pillows are large and are shaped like a U or a C to provide full-body support. Some women prefer to use a smaller wedge-shaped pillow for targeted support at the knees or lower back.
How Do Pregnancy Pillows Work?
A pregnancy pillow is designed to provide comfortable support, especially for the unique shape of a pregnant body. These pillows offer additional support for the back, hips, knees, belly, and shoulders to keep the spine in proper alignment. Additionally, pregnancy pillows can help reduce painful pressure points.
A pregnancy pillow makes it more comfortable for many women to sleep on their sides, which is the recommended position during pregnancy. This position is best for circulation, and it can prevent some common symptoms such as heartburn and congestion. A supported side-sleeping position can also reduce pain in the back and hips.
Most women use a pregnancy pillow for extra support in three key places: the belly, legs, and back. Additional support under the belly can make side sleeping more comfortable, especially during the latter months of pregnancy.
Having part of the pillow between your knees keeps the legs parallel, reducing strain on the hips and pelvis. A pillow behind the back can add support and prevent you from rolling over onto your back, which is not recommended during pregnancy.
Pregnancy can provide additional challenges if you typically sleep on your stomach, as sleeping on one's stomach becomes difficult once the baby bump reaches a specific size. Most pregnancy experts recommend sleeping on your side for at least the second half of pregnancy. However, the folks at PillowGuide have put together a list of the best pregnancy pillows for stomach sleepers. The list also contains a handy guide to cleaning your pregnancy pillow.
How to Use a C-Shaped Pregnancy Pillow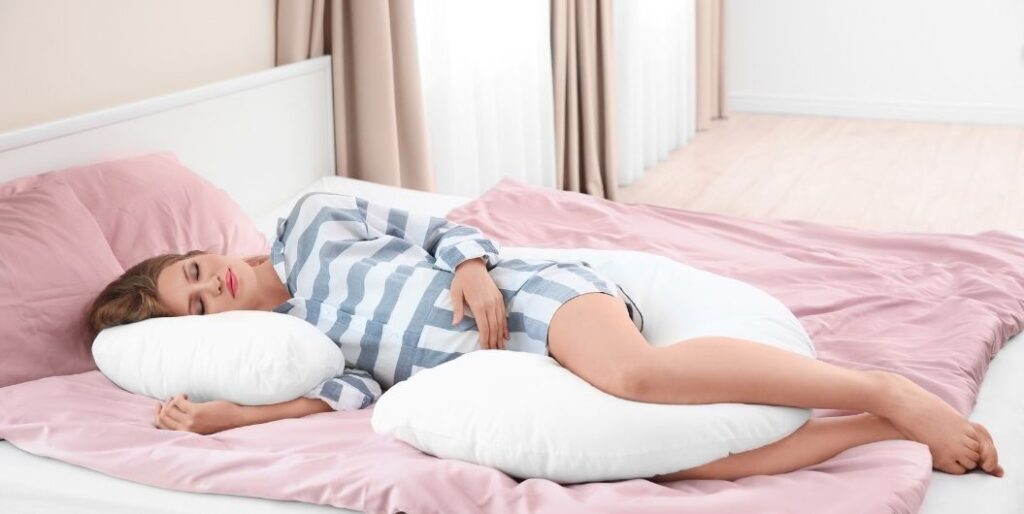 With its long length and gently curved design, a C-shaped pillow is extremely versatile. It's smaller and less bulky than a U-shaped pillow. There are two basic ways to use a C-shaped pillow. You can use it lengthwise as a full-body pillow to hold while you sleep on your side. Alternately, you can fold it in half and use it for extra support around your shoulders, stomach, knees, or back.
How to Sleep With a U-Shaped Pregnancy Pillow
U-shaped pregnancy pillows are larger than C-shaped pillows, and they are designed to support your entire body. To use a U-shaped pillow, position your head at the curve of the U with each "pillow arm" on one side of your body. The top curve cradles your head and neck, and the rest of the pillow offers full support for your stomach, back, hips, and knees.
This shape allows you to easily switch to your other side while sleeping without losing support. During the early months of pregnancy, you can even sleep on your back with a U-shaped pillow.
When to Start Using a Pregnancy Pillow?
There is no "official" time when you should start using a pregnancy pillow. You should use one if and when it is comfortable for you to do so. Most women find it useful to add a pregnancy pillow once their belly starts to grow, which is usually around the 20th week of pregnancy.
Are Pregnancy Pillows Worth It?
Every person (and pregnancy) is different, and it's important to find the products and tools that are right for you. However, many women find pregnancy pillows extremely helpful in reducing the aches, pressure points, heartburn, and circulation issues that are common during pregnancy.
Where to Buy a Pregnancy Pillow
You can find pregnancy pillows in some department stores, especially those with a maternity section. There are also many online retailers that sell a wide variety of pregnancy pillows.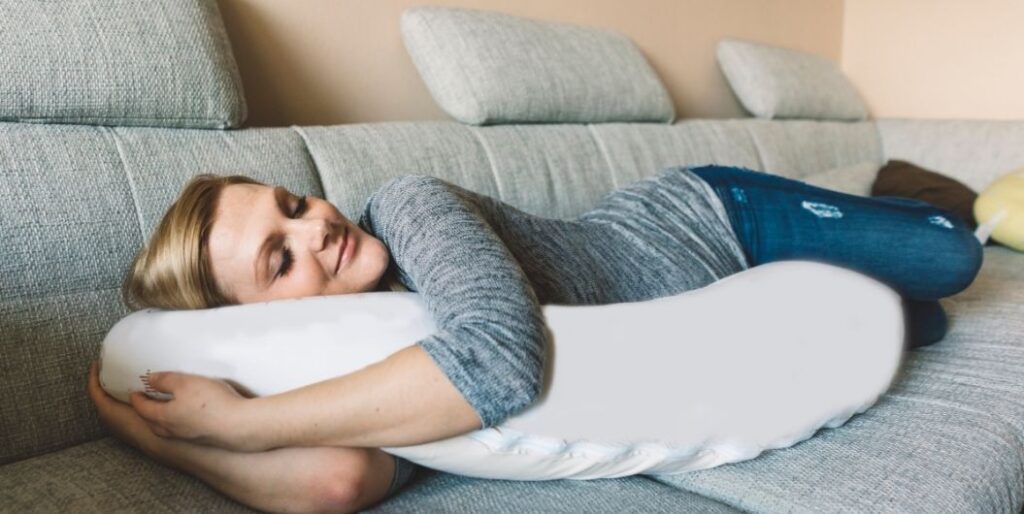 Top Pregnancy Pillows
There are many styles and brands of pregnancy pillows on the market. Here's a list of our top three picks: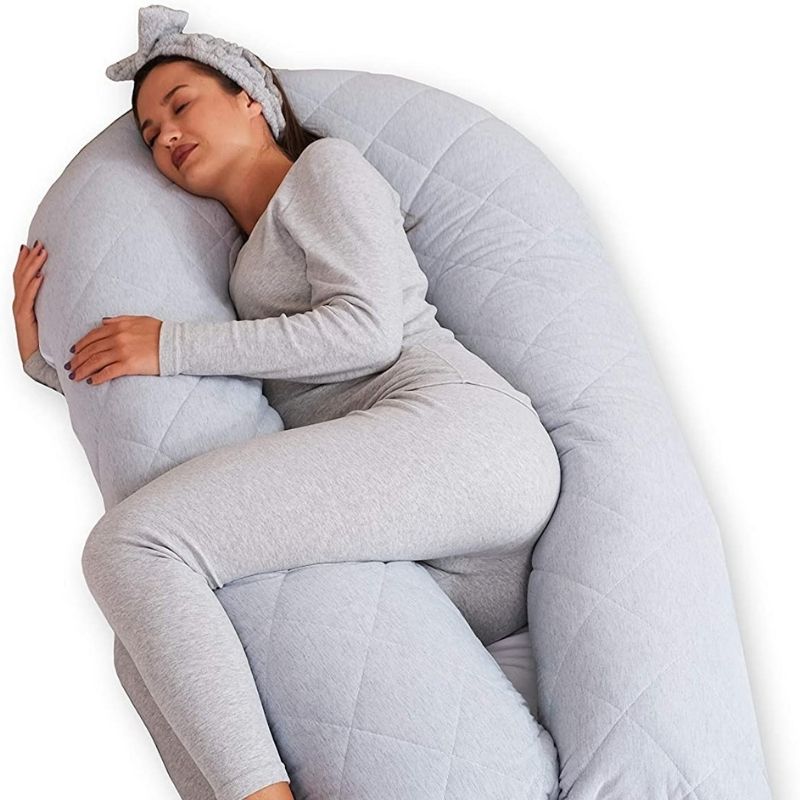 1. BODY NEST Cooling Pregnancy Pillow
The BODY NEST Cooling Pregnancy Pillow is U-shaped and offers exceptional comfort and support. The pillow itself is overstuffed with plush filling, and an internal zipper allows you to add or remove filling. It's easy to customize the pillow to your ideal level of softness.
This versatile body pillow features a two-in-one zippered reversible cover; one side is a soft, minky texture for warmth, and the other is made of high-quality jersey fabric that's breathable. The jersey fabric side is perfect for those who tend to sleep hot. The cover is machine washable for easy care.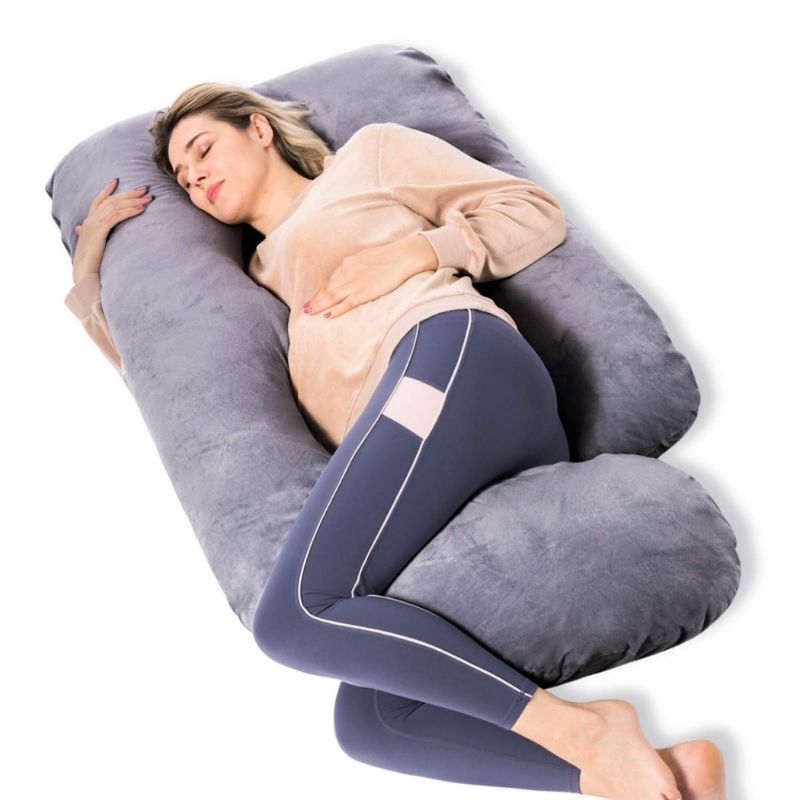 2. Momcozy Pregnancy Pillow
The Momcozy Pregnancy Pillow offers full-body support and includes an extra "bump" to cradle the belly. Its unique shape combines the leg support of a U-shaped pillow with the back and stomach support of a C-shaped pillow.
The pillow features a polyfill blend for soft support that keeps its shape throughout pregnancy and beyond. This ergonomic pregnancy pillow has a zippered velvet cover that's removable and safe for the washing machine.
3. PharMeDoc Pregnancy Pillow
The PharMeDoc Pregnancy Pillow is C-shaped and designed to support the belly, hips, and back. It has a plush polyfill material inside that provides soft support. You can easily fold the pillow in half and place it behind the back or under the knees for support while you're reading or sitting up.
The removable cover is made of jersey cotton, which is breathable and ideal for hot sleepers. It's easy to clean in the washing machine.
Frequently Asked Questions About Pregnancy Pillows
It can take a while to find the right pregnancy pillow for your unique needs. Here are some answers to common questions to help you in your search.
Do pregnancy pillows help with sciatica?
Many healthcare experts recommend sleeping on your side to combat the pain of sciatica. Ideally, you should sleep on the side with less sciatic pain. A pregnancy pillow can make it easier to get comfortable on your side and remain in that position throughout the night.
How to choose a pregnancy pillow?
There are several types of pregnancy pillows that feature different shapes, materials, and price points. Choose the one that meets your needs best. For example, a C-shaped pillow usually works better in a small bed than a large U-shaped pillow. If you tend to sleep hot, avoid heat-trapping materials such as memory foam.
When looking for a pregnancy pillow, it's worth it to do some research on your different options. You can find product reviews online that analyze various pregnancy pillows, such as the best pregnancy pillows for hip pain, side sleeping, or blood circulation. Product reviews will also share the pros and cons of the pillow material, size, and density. Keep in mind that as your pregnancy progresses, your needs may change and you might have to buy another pregnancy pillow.
What size pregnancy pillow should I get?
You should choose the size that is most comfortable for your unique body. Larger sleepers with broad shoulders may require a bigger pillow for adequate support. If you share your bed with a partner, try to choose a size that doesn't affect their sleeping space.
How much does a pregnancy pillow cost?
Most pregnancy pillows cost between $30 and $100 dollars. Smaller pillows may be less expensive, but materials, shape, and brand can all affect the price.
What shape pregnancy pillow is best?
The best shape is the one that is most comfortable for you. Most pregnancy pillows are C-shaped or U-shaped. A C-shaped pillow is very versatile, and you can use it for full-body comfort or for extra support for your back, knees, or shoulders. A U-shaped pillow is bulkier but provides support for your whole body. You can also use a wedge pillow for support in certain sleeping positions.
Why use a pregnancy pillow?
Most experts recommend that pregnant women sleep on their side, rather than their back or stomach. Sleeping on your back can cause pressure points and circulation issues. A pregnancy pillow provides extra support for a side-sleeping position. It helps keep your hips and spine aligned properly to reduce pain and pressure points.
Can I use a pregnancy pillow if I'm not pregnant?
Yes! If you experience pain in your back, hips, or knees during sleep, a pregnancy pillow can help you find a better sleeping position that reduces those issues.
Can you sleep on your stomach with a pregnancy pillow?
Although it's possible to sleep on your stomach during the early weeks of pregnancy, it becomes difficult once the belly begins to grow. Most healthcare experts recommend that pregnant women sleep on their side during the second half of pregnancy. However, there are donut-shaped pregnancy pillows that can allow you to sleep comfortably on your stomach for the first portion of your pregnancy.
Can you wash a pregnancy pillow?
You should follow the care instructions provided by the manufacturer. Many pregnancy pillows have removable covers that are machine-washable.
Is a pregnancy pillow FSA eligible?
It's best to check with the organization that manages your Flexible Spending Account. However, a pregnancy pillow may be eligible for FSA reimbursement if you have a Letter of Medical Necessity from your healthcare provider.
Can you sleep on your back with a pregnancy pillow?
It's best to sleep on your side during pregnancy, especially after the first few months. Sleeping on your back can restrict some blood vessels, which can be dangerous for you and your baby. Many women find that a pregnancy pillow helps them sleep comfortably on their side.