VeryVery Baby Diaper Review: Making the Eco-Friendly Switch Effortless
If you're here because you're unhappy with your baby's current diapers, I highly recommend trying VeryVery. In this review, I'll share what I love about these eco-friendly diapers and why I want to share my experience with other moms.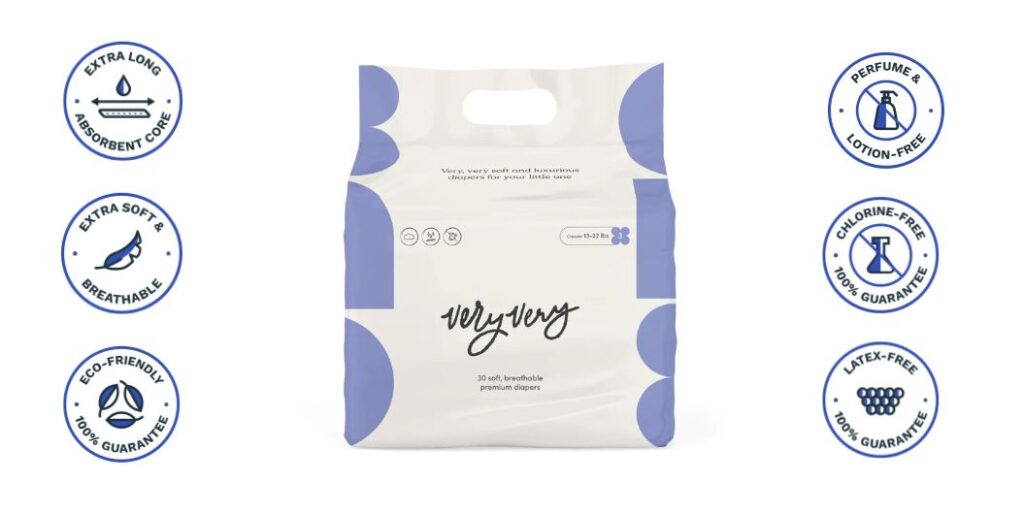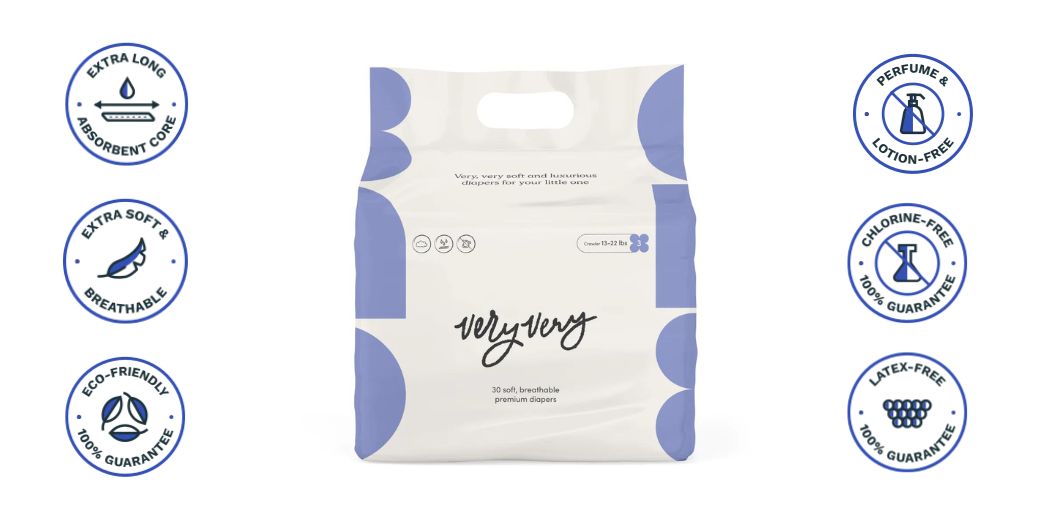 The Summary
As a working, first-time mother, I'm well acquainted with being short on time, so before I go into further detail, I will jump straight to the point—I wish I had known about VeryVery diapers from the start. Here's a brief summary of my overall review:
Positives:
At first, I only ordered VeryVery as daytime diapers, but they worked so well that I switched to them full-time. The material is ultra soft, stretchy, and hypoallergenic, and the blowouts have decreased remarkably since I've started using them. I attribute this to their flexible fit as well as their 12-hour absorbency.
VeryVery baby diapers are also made from sustainable materials with renewable energy, so I didn't feel so guilty about switching from cloth diapers. It was so nice having the diapers delivered right to my door with free shipping. Plus, there's a 100% satisfaction guarantee, so you can experience a stress-free trial process.
Drawbacks:
Of course, every baby has different needs, and you may have different priorities as a parent. For me, the higher cost of VeryVery is worth the time back in my life that I used to spend cleaning cloth diapers and is worth a premium, gentle, and sustainable product (though the price may still be too much for some people).
Still, I wish VeryVery had more design options and that their sizing was more standard with the industry. I ordered the wrong size at first, but thankfully, the customer service team was incredibly helpful in replacing my order with the right size. It's an added step, but be sure to check the sizing you need before ordering.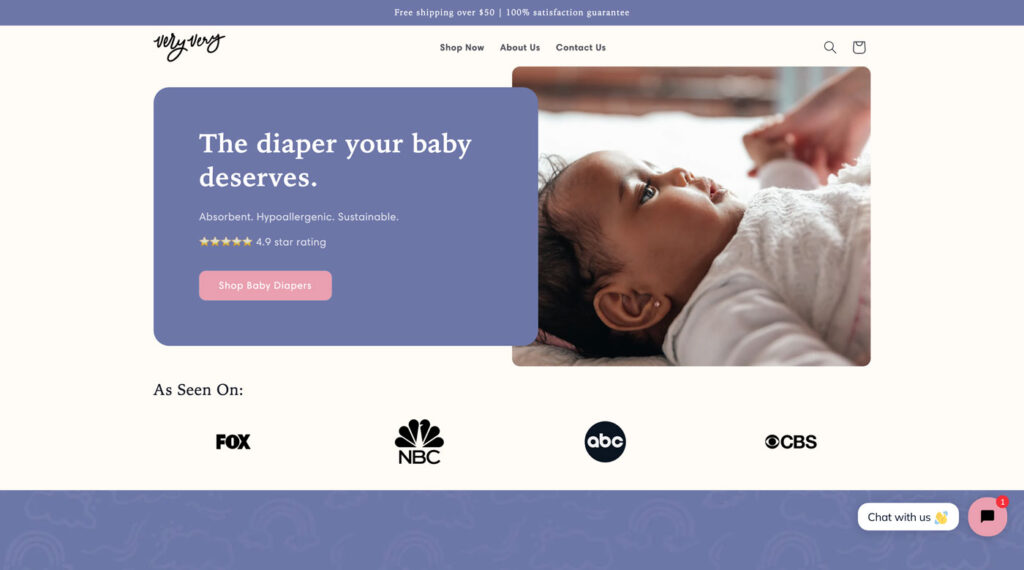 What Are VeryVery Diapers?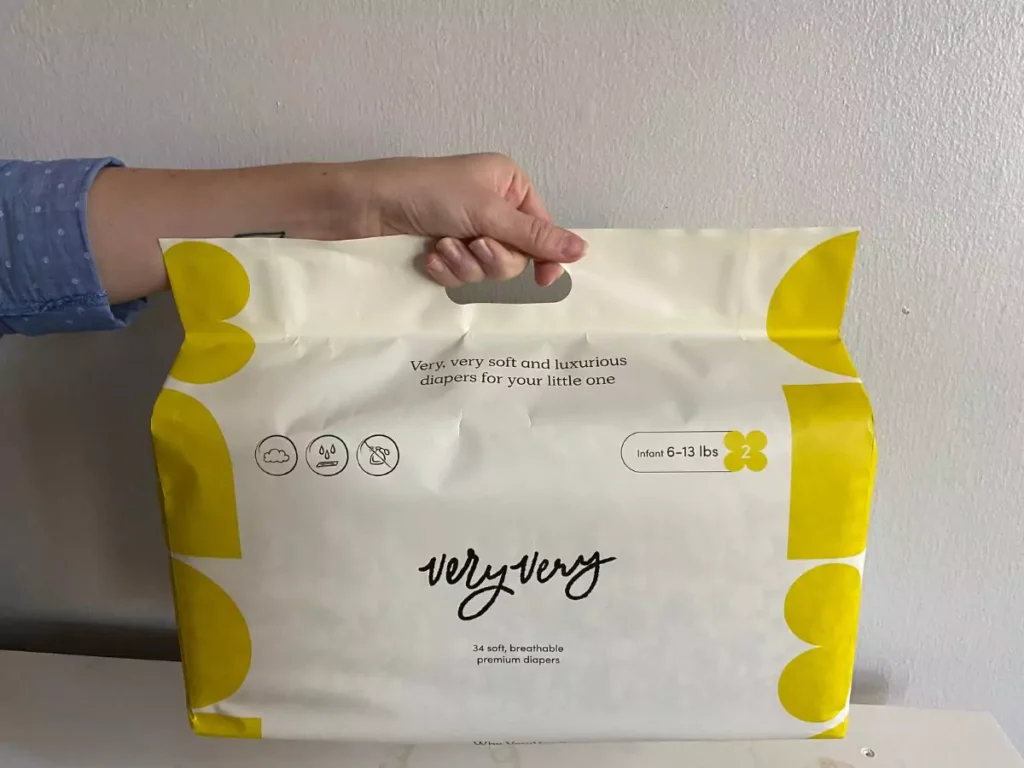 VeryVery was started by parents, grandparents, and childcare professionals eager to create a high-quality diaper to minimize stress for parents and carry babies to potty training.
What makes VeryVery disposable diapers different from other diaper brands is the materials they are made from. VeryVery disposable diapers are designed for sensitive skin and are free from fragrances, lotions, latex, and chlorine. As green diapers, they are made from FSC-certified pulp, sustainable cotton, and recycled plastic. In addition to being a healthier disposable diaper for my baby's skin and the planet, VeryVery protects against diaper rash through its high absorbency that keeps my son's skin dry.
Before I became a mom, I never thought there would be so much variety in diaper brands. After my son was born, the little differences became clear and made me realize how important it is to find the right brand for us. If there is one thing I don't want to compromise on, it is my little one's comfort and well-being.
How Does VeryVery Compare to Other Diaper Brands?
Every baby is different, so what we need in diapers also varies. For you to easily compare brands based on the features that are important to you, I made this comparison chart and ranked each on a scale of one to five. This chart compares VeryVery to the top eco-friendly diaper brands, Honest Company diapers and Coterie, as well as two traditional diaper brands, Pampers Swaddlers and Huggies.
| | | | | | |
| --- | --- | --- | --- | --- | --- |
| | VeryVery | Coterie | Honest | Huggies | Pampers |
| Absorbency | 5 | 4 | 3 | 3 | 2 |
| Size & Stretch | 4 | 5 | 4 | 4 | 3 |
| Materials | 5 | 5 | 4 | 3 | 2 |
| Blowout Protection | 5 | 4 | 3 | 4 | 1 |
| Skin Sensitivity | 5 | 5 | 3 | 2 | 1 |
| Chemical Free | 5 | 4 | 2 | 2 | 1 |
| Eco-Friendliness | 4 | 3 | 3 | 2 | 2 |
| Price | 1 | 1 | 2 | 4 | 4 |
| Design | 4 | 2 | 5 | 4 | 4 |
| Total Score | 8.4/10 | 7.3/10 | 6.4/10 | 6.2/10 | 4.4/10 |
Diaper Features
I've mentioned some things that have made VeryVery indispensable to me, but here is a more in-depth look at VeryVery's features.
Materials
I put materials first on the list because this is one thing I particularly love about VeryVery's disposable diapers. When you feel these diapers, you can immediately tell they are made from high-quality materials. Created from FSC-certified paper fluff pulp and cotton, they are super soft and breathable. Not only does it give me peace of mind knowing that my son is comfortable, but it's also reassuring that their disposable diapers are hypoallergenic and that no harsh chemicals are reaching my baby's skin.
The elastic around the legs and waist are also lovely and stretchy yet sung, which I'm sure is one reason that we haven't had to stress about leaks or blowouts. Regarding disposable diapers, VeryVery's are also the most durable diapers I've tried, which helps make up for their price.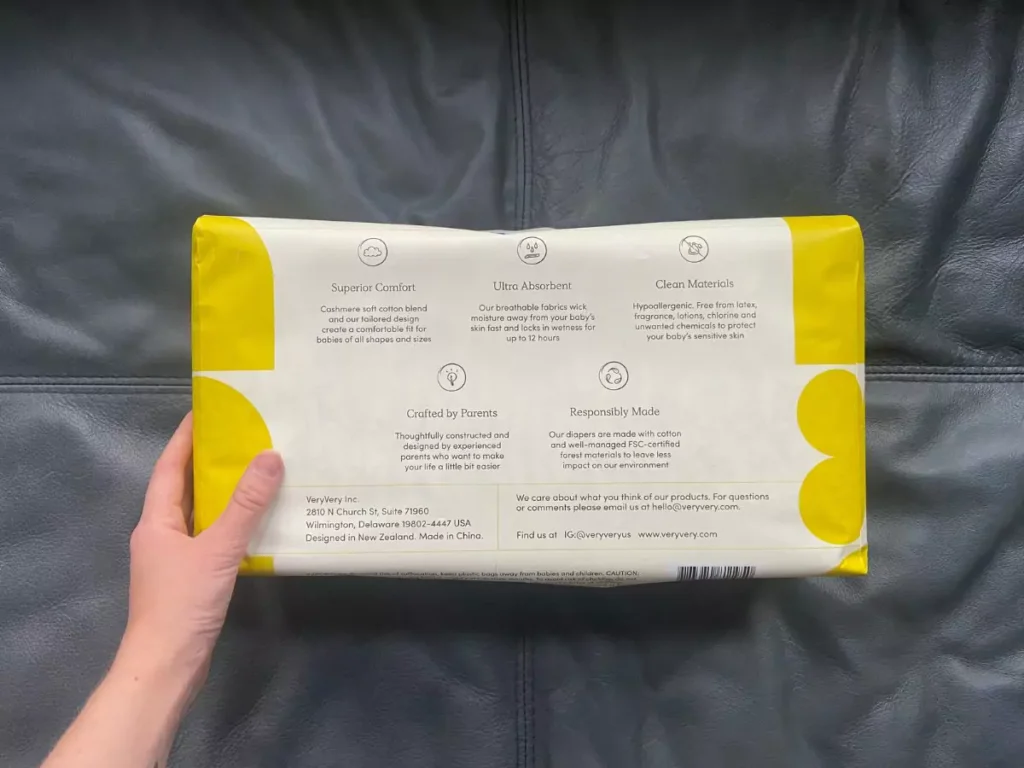 Absorbency
Protecting your baby's skin from diaper rash caused by a wet diaper is the essential function of a diaper. One that offers leak protection and is incredibly absorbent is a must.
For that reason, even though eco-friendly diaper brands were my first choice, I once bought Pampers Swaddlers as overnight diapers because those were the diapers that the nurses used in the hospital and that friends who were already past their baby's diapering years had recommended to me as the best overnight diapers.
I have to say I was disappointed with Pampers diapers. I later discovered that Pampers changed their design, which may have been why my experience differed from my expectations.
After that, I shopped around a lot for more absorbent overnight diapers. Although I was happy with Coterie Diapers, VeryVery diapers are the most absorbent diapers I have tried. We have had no problems with leaks or blowouts since switching over to VeryVery. The absorbent core works so well at wicking away moisture.
Fit & Design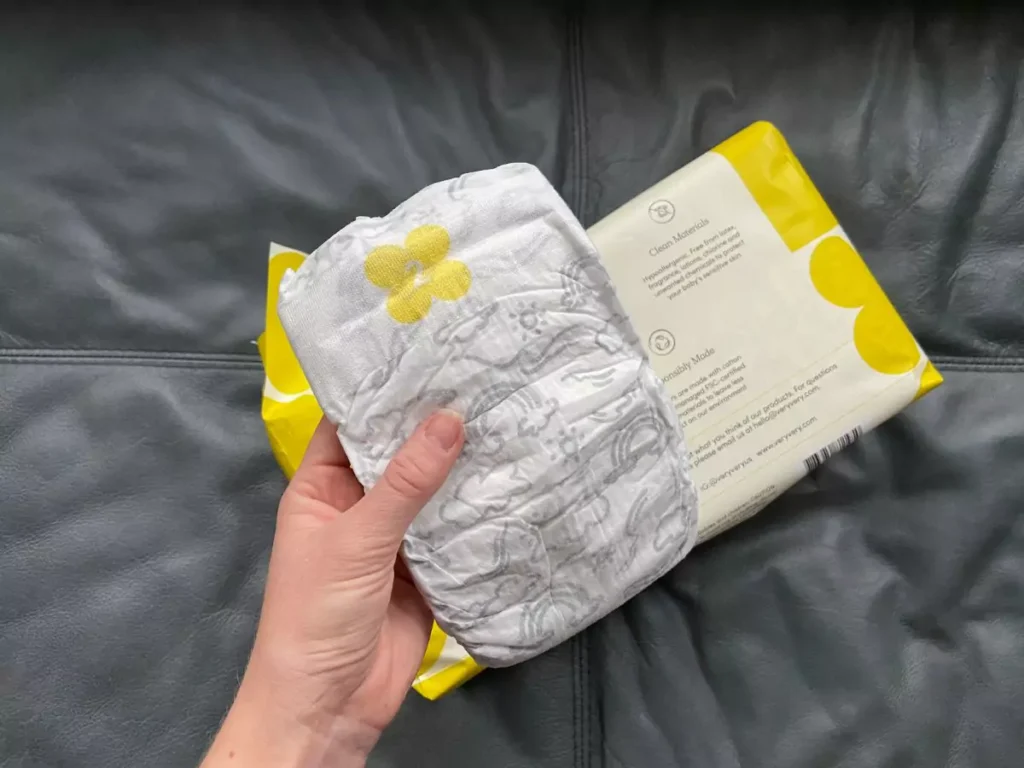 There are a few things I want to mention here about the fit and look of these diapers. First, the closures adjust well and are solid, which is essential for keeping your baby's skin dry, preventing blowouts, and overall comfort. Every size that we've used has fit my son well (once I confirmed I had the right size for his weight), but I do want to mention that when we were in between sizes, going a size up worked best, especially at night.
Lastly, although there are not as many design options as Honest diapers, the one design that VeryVery offers is super cute and versatile.
Environmental Impact
At first, I felt very strongly about cloth diapering during the day because of the environmental impact. Still, as my husband and I both work, that quickly started to feel unrealistic for our lifestyle. I struggled with the endless laundry and water waste of cloth diapers, as well as the guilt of switching to disposable diapers full-time, until I found VeryVery.
As a mom, I think giving ourselves some grace is deeply important, but VeryVery has made that process much easier for me. VeryVery's disposable diapers are made from natural materials using renewable energy. There's always going to be some plastic in a disposable diaper for leak protection, and thankfully, VeryVery uses recycled plastic and far less than mass-market brands—with roughly 50% more biodegradability. Although no disposable diapers are perfect for the environment, VeryVery is considerably eco-friendly.
Skin Sensitivity
Of all the diapers we have tried, VeryVery is the best diaper for our baby's sensitive skin. VeryVery's hypoallergenic diapers are more gentle on our baby's skin than other brands. Because they don't use lotions, fragrances, or harsh chemicals, we can ensure that nothing but the purest products touches our son. So far, we've seen no irritation or diaper rash, which we had previously experienced even with cloth diapers.
Price Per Diaper
Considering the quality of VeryVery diapers, they are reasonably priced. If you're looking for eco-friendly, super-soft diapers designed for sensitive skin and powerful leak protection, they're bound to cost more than most disposable diapers.
That said, not only does the quality of their materials make the price well worth it, but because of their high absorbency, we can use fewer diapers without worrying about our son's comfort. With other brands, the frequent changes can add up!
Shipping a box to your door is free, and there is a 100% satisfaction guarantee, so if the diapers don't fit, their customer service team will work with you to exchange them for a better fit. Plus, VeryVery says they're working on coming out with a subscription service soon, so there's potential for added savings!
My Journey with VeryVery Diapers
As I mentioned earlier, I initially used cloth diapers for my son. When I realized how much more time-consuming it was to use cloth diapers through the night, I searched for the best disposable diapers I could find.
After researching online and talking with friends, I experimented with store-brand and premium diapers. My experience was that budget-friendly options like Kirkland diapers didn't have the same performance as more expensive brands like Honest Company diapers or Coterie. The mess, frequent diaper rash, and diaper changes weren't worth the money I saved.
After a coworker recommended VeryVery, my life became so much easier that I eventually gave up on cloth diapering altogether. I am glad I did because now I have more time to focus on other things. I can allow someone to watch my son without the stress of teaching them how to use cloth diapers or dealing with the mess when I get home after a long day.
My son is comfortable, and I can rest easy knowing that VeryVery uses sustainable materials and production methods. To be honest, I was surprised more people didn't know about this brand, which is why I wanted to share my experience and write this VeryVery diaper review.
For a more comprehensive understanding, it's always wise to look at multiple perspectives before making a decision. Besides my personal experience, I came across another insightful VeryVery baby diapers review that resonated with many of my findings. It's enlightening to see how other parents navigated the switch and the different facets of VeryVery diapers that stood out to them. I highly recommend giving it a read for a well-rounded view on the convenience and eco-friendliness of VeryVery diapers.
Why I Recommend VeryVery Over Other Diapers
Every baby is different, so depending on your baby's weight, diaper fits will differ. I also know that not everyone has the same diaper needs, so it is hard for one brand to fit all.
That said, if there is a brand that can match most parents' needs and expectations, it is VeryVery. Because of their adjustable but snug fit, leak protection, softness, natural materials, and sustainability, VeryVery makes the diapering years significantly easier for parents and babies.
If you're in the market for premium diapers, there's no reason not to try VeryVery. I hope this review helped you, and I wish you the best of luck finding the diaper to get you through this messy, exhausting, and beautiful time!