VeryVery Baby Diapers: A Mom's Choice for Sustainable Comfort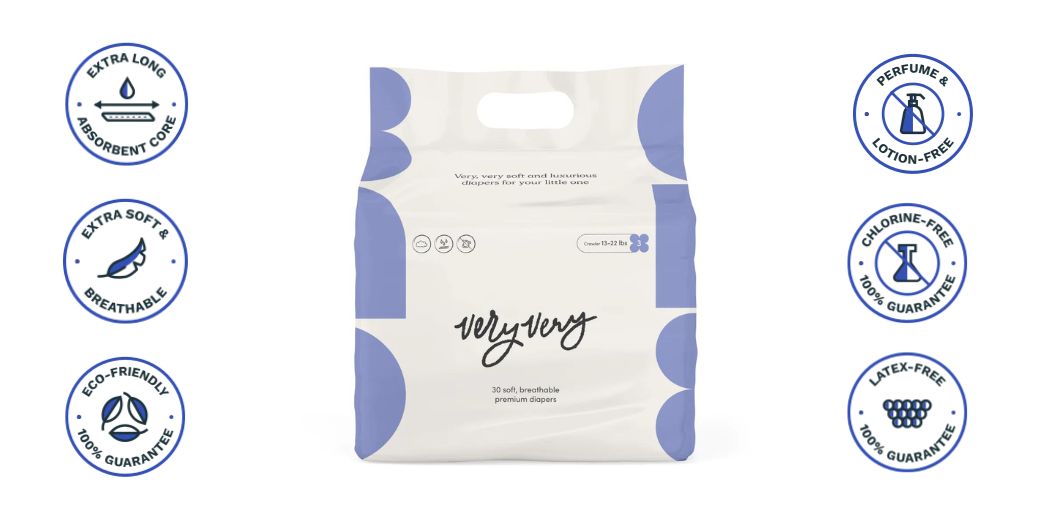 Expecting a child is a journey of hope and excitement—with countless decisions. One of the earliest and most frequent choices a mom makes is selecting the right diaper for her baby. Enter VeryVery, a brand that understands a mother's desire to provide the best for her child without compromising the environment.
A Mother's Touch in Every Diaper
Every VeryVery diaper is designed with an emphasis on safety and premium comfort, mirroring the dedication of a mom's care. With a focus on quality and functionality, VeryVery is committed to providing the best for your baby. They prioritize:
1. Baby's Comfort
Softness is paramount when it comes to a baby's delicate skin. VeryVery diapers are designed to be incredibly soft and breathable, ensuring that your baby feels wrapped in a gentle embrace day and night.
2. Safety First
Your baby's safety is always a top concern. VeryVery diapers are hypoallergenic, free from dyes, lotions, perfumes, and natural latex. This ensures that even babies with the most sensitive skin remain irritation-free.
3. Earth's Well-being
As parents, we not only care for our children but also the world they will inherit. VeryVery diapers, which are produced using renewable energy, are a testament to sustainable parenting. Made with eco-friendly materials like sustainable cotton, biodegradable pulp, and recycled plastic, they ensure a greener future for our children.

Features Tailored for Moms
VeryVery diapers are designed with moms in mind, addressing key concerns to ensure baby's comfort and ease of use.
Skin-Sensitive Materials
Every mom wants to ensure that the products touching their baby's skin are gentle and safe. VeryVery diapers are designed with this in mind, using hypoallergenic materials that are free from perfumes, lotions, dyes, and natural latex. This commitment to gentle materials helps protect even the most sensitive baby skin from irritation.
Absorbent, Leak Protection
At the end of the day, the point of a diaper is to contain messes and keep your baby dry and comfortable. With their incredible leak protection designed for maximum absorbancy, VeryVery diapers can last for up to 12 hours, giving moms greater peace of mind.
Anticipated Subscription Convenience
VeryVery understands the challenges of adjusting to motherhood. While their subscription service is currently in the works and coming soon, it promises to offer timely deliveries right to your doorstep in the future. Paired with fast and free shipping, this feature aims to help moms focus on what truly matters—cherishing moments with their baby.
Join the VeryVery Community
Becoming a mom is a transformation filled with love, learning, and growth. VeryVery is not only a diaper brand, but also a community of parents who prioritize their baby's comfort and the planet's well-being. By choosing VeryVery, you're not just making a product choice; you're joining a movement of moms dedicated to a sustainable and loving future.
For more insights and to be a part of the VeryVery family, visit VeryVery's official website.