Taking a tiny human out and about with you isn't easy—especially when they don't know how to walk yet! Cue the stroller.
Whether you're taking a leisurely stroll with your group of mommy friends or out running errands during the day, your stroller is one of the best baby products you can buy and it will save your arms and back from carrying a baby all day long.
But some places are better than others when it comes to pushing a stroller. Check out the map below to find out which cities are the most stroller-friendly for your leisurely afternoon excursions!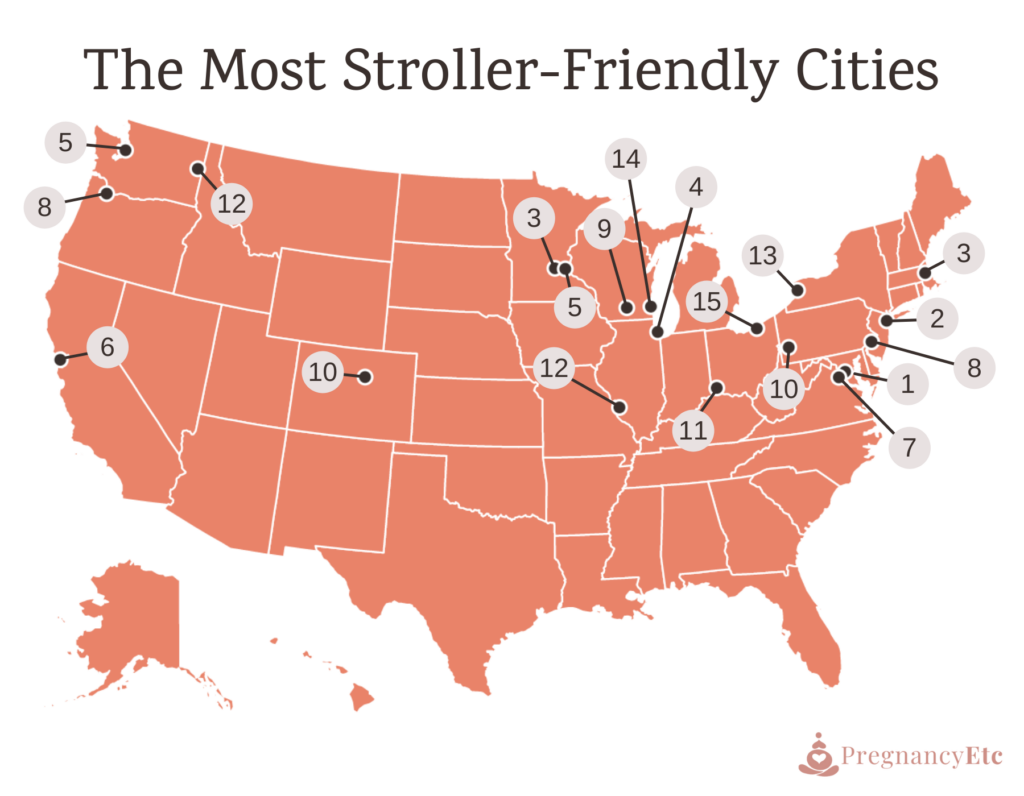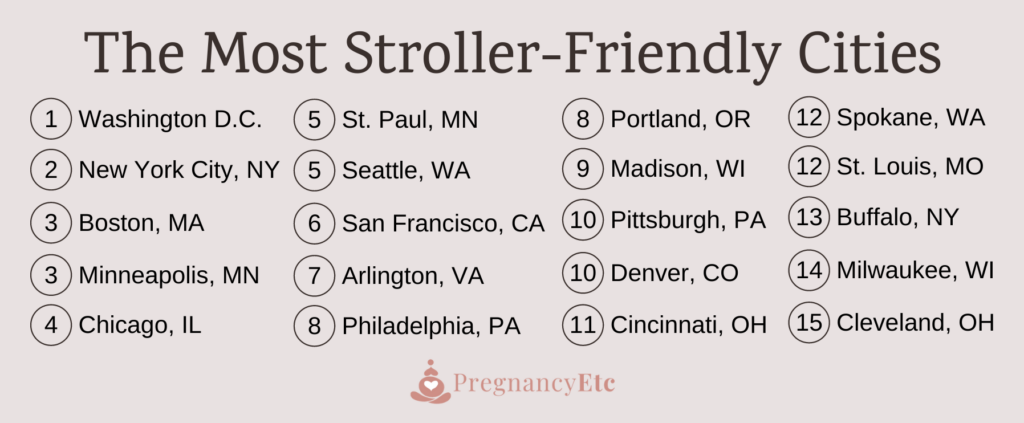 Facts and Findings
Washington D.C. took the top spot in the nation, which is easily understandable when you consider that it has 1,495 miles of sidewalk to keep strollers away from cars on the street
Some states had two cities rank on the list of stroller-friendliness:

Minnesota
New York
Ohio
Pennsylvania
Washington
Wisconsin

Boston had the best score when it comes to pedestrian safety—it had only one pedestrian fatality per 100,000 people each year for 10 years!
San Francisco is the most walkable city on our list with a WalkScore of 89/100
Methodology
We looked at the combined rankings of 99 U.S. metropolitan cities across three main factors to determine which were the most stroller-friendly in terms of access to open areas (parks), walkability, and pedestrian safety.
| | | | | | |
| --- | --- | --- | --- | --- | --- |
| State | City | Overall Ranking | ParkScore | WalkScore | Pedestrian Danger Index |
| DC | Washington D.C. | 1 | 84.4 | 77 | 23.9 |
| NY | New York | 2 | 74.8 | 88 | 25.1 |
| MA | Boston | 3 | 73.5 | 83 | 23.1 |
| MN | Minneapolis | 3 | 79.7 | 71 | 25.6 |
| IL | Chicago | 4 | 77.2 | 77 | 37 |
| MN | St. Paul | 5 | 80 | 60 | 25.6 |
| WA | Seattle | 5 | 75.4 | 74 | 29.2 |
| CA | San Francisco | 6 | 76.3 | 89 | 77.3 |
| VA | Arlington | 7 | 79.6 | 71 | 45.2 |
| PA | Philadelphia | 8 | 64.9 | 75 | 33.2 |
| OR | Portland | 8 | 75 | 67 | 42.8 |
| WI | Madison | 9 | 73.4 | 50 | 28.4 |
| PA | Pittsburgh | 10 | 63.3 | 62 | 33.2 |
| CO | Denver | 10 | 65.7 | 61 | 42.1 |
| OH | Cincinnati | 11 | 75.9 | 49 | 44.1 |
| WA | Spokane | 12 | 66.9 | 49 | 29.2 |
| MO | St. Louis | 12 | 68.4 | 66 | 73.7 |
| NY | Buffalo | 13 | 56.3 | 67 | 25.1 |
| WI | Milwaukee | 14 | 58.5 | 62 | 28.4 |
| OH | Cleveland | 15 | 62.3 | 57 | 44.1 |